July 29, 2019 10:15 am
New Westminster Web Design
There's been hills and valleys to become New Westminster's Premier Web Design Company. The course of Metric Web Design Inc. has taken' many turns over the past few years.
I think it's finally time to look back and take a second to see how far we've come over the past couple of years, give ourselves a well deserved "Pat on the back," and appreciate all the legwork it's taken to get to this point.
We have had various offices in Burnaby and New Westminster over the last few years since Metric's inception, and they have represented our whacky adventure into becoming one of New Westminster's favourite group of web tech boys.
---
Humble Beginnings
When we began, we worked at various home-offices and today because of our humble beginnings, even now with an office — we visit Our Clients' place of business for meetings and enjoy having Coffee with a few regularly.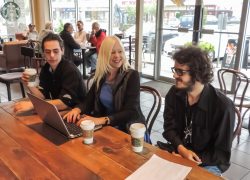 We had backgrounds of working on computers and had memories of MMO's, Starcraft and Rollercoaster Tycoon. In our spare time before making Web Design a living  –we predominantly lurked on the internet and enjoyed being for a lack of a better word; a bunch of nerds. We always sort of did "Web Projects" just on our own terms.
One way or another in a short year of conception we had begun working on EZ-Vape's large franchise and accomplishing many different achievements along the way creating custom systems, taking product shots, creating websites and having a blast. We did a Custom Banner System, took hundreds of Product Shots and started creating a strong web presence with our prior experience in the Vape Industry.
It really showed us we can do amazing work for niche markets, simply because we're willing to learn and approach marketing unconventionally.
We started offering all-encompassing packages all unique to each project to ensure our clients have everything they need to get to where they want to be. This proved essential to creating a lot of the powerful relationships we have today with our clients.
Our team slowly grew in time with Cole helping out on the backend and advanced solutions and many memorable moments project to project.
---
Office #1: Coffee
We officially moved into our first office in Burnaby and it was a big change for us. Our team grew some more with Justin helping out with Graphics and Banners and us creating a marketing team for the larger projects we started taking on at that time.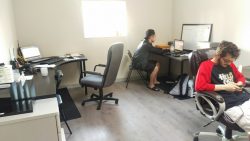 Long hours were spent, and many pots of Coffee mixed with Instant Coffee were definitely made at the time.
We did quite a few projects and spent a lot of time indoors during this period, the office was located in a larger business office building but we were the only business and people in the entire building, we had our own elevator basically, it was pretty sweet, but we found the location to be a little hard for our clients to get to and the parking wasn't spectacular.
Being above an animal hospital and only having 2 parking spots can be a bit of a problem. But luckily we were so busy during this time we were always out and about conducting meetings remotely.
We moved out after a year and moved offices yet again to technically Burnaby up 6th street. But in the time we had done many projects and grew exponentially as we started doing much more work in the SEO field.
---
Office #2: Upscaled
Our team was growing, years had gone by and we had completed a large roster of projects in that time. Worked with creating product authentication systems/database arrays for product packaging. Made product boxes, labels and a host of other web design and advanced tech projects.
Our new office was a bit easier to get to and the parking was more open. We were expanding and wanted a larger office with some real windows! This office was great with a lot of extra room. We set up some cloth cubicles and worked on even more projects.
We started doing a lot of branding work for companies creating their Logos, Brand Identity Protocols and Print material to go along with it like Signs, etc.
We always did this from day one, but it was just very prevalent at the time and really let us hone in on creating a Brand Identity for our Clients and taking that Brand Identity and spreading it all across the board, from Signs, Systems to Websites to their Products and Packagings with Authenticity Scratch Codes.
All of it was made to be seamless and mesmerizing when you went across different platforms. It's especially cool when you see a Vinyl Wrapped Car driving around with the brand identity designed on it, and seeing that seamless across their website and etc.
A lot of really unique projects happened at the time, people from all walks of life were working with us. It's funny how Web Design lets you meet so many diverse people. Lots of funny tales along the way.
We had a lot of fun in this office but decided to find a more prime location closer to New Westminster as we felt the environment and Columbia street were much closer to who we were as people.
---
Office #3: Today
We then moved to our current office of the last two or so years between Columbia and New Westminster Skytrain Stations at 631 Columbia Street. Funny enough, all those years ago before we got into our first office in Burnaby, we looked at these very offices.
We initially didn't like it because of the lack of windows, but years later it's funny to see how things changed as these offices and Columbia have become our home base.
It's incredibly easy to come to and distinct. It also allowed us to separate things in different rooms and become much more productive with the ability to hire more people on our team who didn't drive and in general progress forward as a company.
It's here we really honed and brought everything we did years previously together and made them cohesive.
We created better practices for creating our documentation, created NAS and servers for various tasks and installations and we finally honed in our own Brand Identity and Marketing ourselves at Metric Web Design Inc.
We previously at one point were making websites without even much of a website ourselves, which sounds crazy for a web agency but that is really just how busy we were. We were flooded with clients and had no need and no time to create our own website until a certain point.
Mostly because we wanted to create this bad*** website you are viewing now, and it took a LOT of work, and because we were already at capacity with client needs.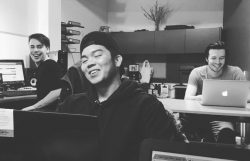 But, we finally did and it's been going great.
In these years we've really seen a ton of different things and seen the internet as a whole shift. We still pride ourselves on our Coffee Cups, but we can now safely say we are proud to of started humbly and out of hobbyist passion and now today, be a full-fledged web design agency.
Thank you for reading our Blog Post here at Metric Web Design Inc.
---
We have dealt with dozens of different industries at this point and helped create dozens of different companies with strong brand identities and proper protocols with great websites in the last 4 years of operation.
And we won't be stopping anytime soon! Contact Us today, we want to help you too!